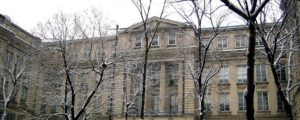 The beautiful heritage building that houses École FACE is in need of major renovations. A request for the $120 million project has been submitted to the Quebec government by the Commission scolaire de Montréal (CSDM), which owns ‪3449 rue University‪, supported by the English Montreal School Board (EMSB). ‪‪‪
In preparation for this massive undertaking, a Comité de vigie (CVF) made up of parents, teachers, staff, students, representatives from the Service de garde, Milton-Parc afterschool program, the Conseil d'établissement (Governing Board, hereafter referred to as CÉ), and the direction was struck during the 2017-18 school year. The CVF has an advisory role and represents the interests of the FACE community, revolving around an exceptional, unique and complex institution.
Below you will find the communications of the CVF that will inform you about the progress of the project.
>> First communication (Dec. 2017)
>> Second communication (April 2018)
>> Third communication (Dec. 2018)
February 2019: the first phase of the projet is approuved by the government
      >> Press release (in French only)
      >> Communication from the school to the parents